—/100
Checkpoints
arrow_forward
Securing Google Cloud with CFT Scorecard
GSP698

Overview
CFT Scorecard is an open-sourced command line client of Forseti Config Validator and part of the broader Cloud Foundation Toolkit. It provides visibility into misconfigurations and violations of an established set of standards for Google Cloud resources, projects, folders, or even organizations.
There are over 86 distinct Google Cloud resource types, and they're growing. With the move to public cloud, it is easier than ever to federate cloud operations and resource deployment out to many individuals. Along with federation and agility in the deployment of infrastructure, resources, and policy, it has become increasingly difficult to keep policies and standards in order.
In this lab you will configure CFT Scorecard to improve visibility into a Google Cloud project and detect misconfigurations.
What will you do in this Lab?
This lab highlights the challenges with using the cloud with multiple concurrent users. You will enable the CFT Scorecard and extend its resource configuration monitoring and violation detection capabilities through integration with Cloud Asset Inventory and the open-sourced Policy Library. You will set up the tooling for detecting misconfigurations and over-exposed resources while still allowing other individuals within your team, and ultimately the Google Cloud project, to be agile within established policies.
Topics Covered
Setting up CFT Scorecard
Running a CFT Scorecard assessment
Adding new CFT Scorecard policy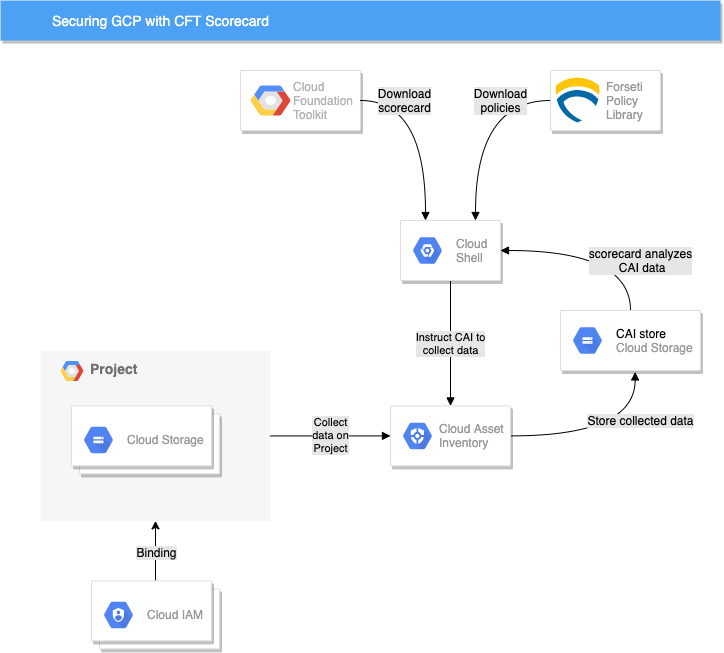 Qwiklabs に参加してこのラボの残りの部分や他のラボを確認しましょう。
Google Cloud Console への一時的なアクセス権を取得します。
初心者レベルから上級者レベルまで 200 を超えるラボが用意されています。
ご自分のペースで学習できるように詳細に分割されています。
参加してこのラボを開始