Network Performance Testing
GSP044

Overview
In this lab you'll learn how to perform basic networking tasks on Google Cloud (including Compute Engine instances) and how Google Cloud might differ from an on-premises setup. You'll set up a demo environment with a network and 5 subnetworks to use throughout the lab, and it will look like this: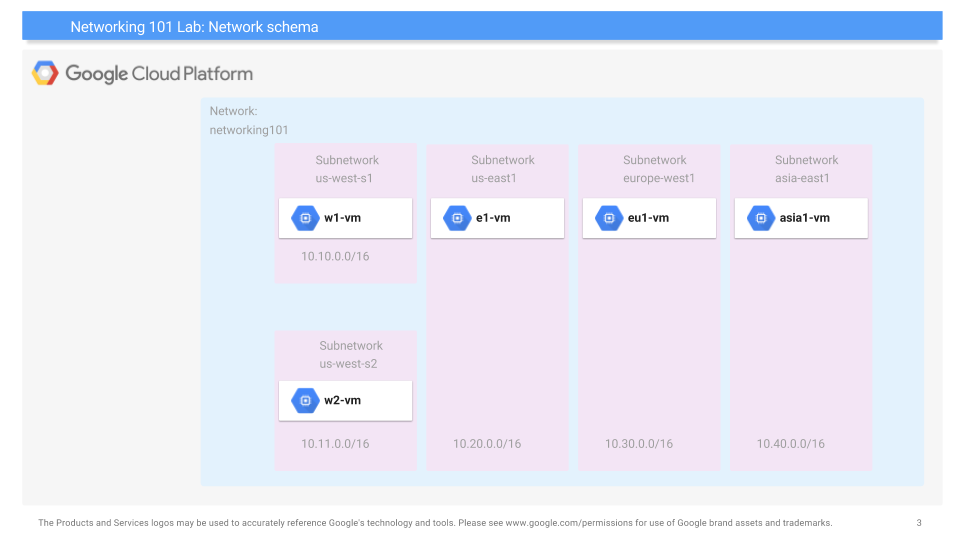 The exercises you'll do are ordered to reflect a common cloud developer experience:
Set up your lab environment and learn how to work with your Google Cloud environment.

Use of common open source tools to explore your network around the world.

Testing and monitoring your network and instances.

Cleanup.
What you'll learn
How to measure latency between Compute Engine regions and zones

How to test network connectivity and performance using open source tools

How to inspect network traffic using Open Source tools
Prerequisites
Basic knowledge of Google Cloud services (best obtained by having previously taken the labs in the Google Cloud Essentials Quest)
Basic networking and TCP/IP knowledge
Basic Unix/Linux command line knowledge
加入 Qwiklabs 即可阅读本实验的剩余内容…以及更多精彩内容!
获取对"Google Cloud Console"的临时访问权限。
200 多项实验,从入门级实验到高级实验,应有尽有。
内容短小精悍,便于您按照自己的节奏进行学习。
加入以开始此实验