—/100
Checkpoints
arrow_forward
Configure External HTTP(S) Load Balancer
Leveraging Amazon S3 as Google Cloud CDN Origin
1 hour 30 minutes
5 Credits
GSP863

Overview
In Content Delivery Network (CDN), the origin is an industry-standard term for a backend that serves the web content. Cloud CDN is Google's content delivery network. Customers can have data that is hosted either on-prem or on another cloud provider. Using the custom origins feature, we can serve the content hosted outside GCP via Cloud CDN. In this lab, we will walk you through the process of setting up Amazon Simple Storage Service (S3) as an origin for Cloud CDN.
Amazon S3 is Amazon's object storage service. Google's Cloud CDN works with the external HTTP(S) load balancer. To configure S3 as a backend for the external load balancer, you will use an Internet Network Endpoint Group (NEG). Internet NEG is used for endpoints hosted outside Google Cloud. You can read more about Internet NEGs here.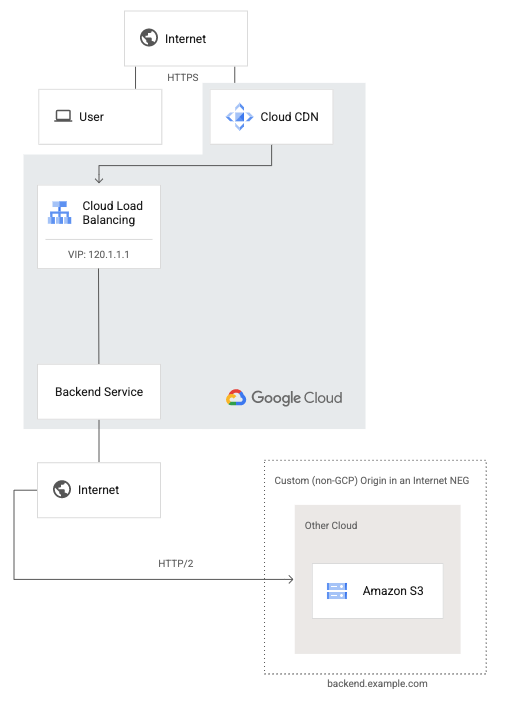 In this lab, you will do the following:
Prepare the S3 bucket to serve content.

Create an Internet NEG using the S3 endpoint.

Configure the external HTTP(S) load balancer with Internet NEG as the backend.

Test the setup.
Join Qwiklabs to read the rest of this lab...and more!
Get temporary access to the cloud console.
Over 200 labs from beginner to advanced levels.
Bite-sized so you can learn at your own pace.
Join to Start This Lab