Checkpoints
Create a virtual machine to perform the creation of the pipeline and use as your website.
Periksa progres saya
/ 20
Create the bigtable instance.
Periksa progres saya
/ 20
Create a Google Cloud Storage bucket
Periksa progres saya
/ 20
Run the daraflow pipeline
Periksa progres saya
/ 20
Create a firewall rule to allow tcp:5000 for visualization.
Periksa progres saya
/ 20
Tracking Cryptocurrency Exchange Trades with Google Cloud Platform in Real-Time
GSP603

Overview
Today's financial world is complex, and the old technology used for constructing financial data pipelines isn't keeping up. With multiple financial exchanges operating around the world and global user demand, these data pipelines have to be fast, reliable and scalable.
Currently, using an econometric approach—applying models to financial data to forecast future trends—doesn't work for real-time financial predictions. And data that's old, inaccurate or from a single source doesn't translate into dependable data for financial institutions to use. But building pipelines with Google Cloud can solve some of these key challenges. In this post, we'll describe how to build a pipeline to predict financial trends in microseconds. We'll walk through how to set up and configure a pipeline for ingesting real-time, time-series data from various financial exchanges and how to design a suitable data model, which facilitates querying and graphing at scale.
You'll find a tutorial below on setting up and deploying the proposed architecture using Google Cloud, particularly these products:
The tutorial will explain how to establish a connection to multiple exchanges, subscribe to their trade feed, and extract and transform these trades into a flexible format to be stored in Cloud Bigtable and be available to be graphed and analyzed.
This will also set the foundation for ML online learning predictions at scale. You'll see how to graph the trades, volume, and time delta from trade execution until it reaches our system (an indicator of how close to real time we can get the data). You can find more details on GitHub too.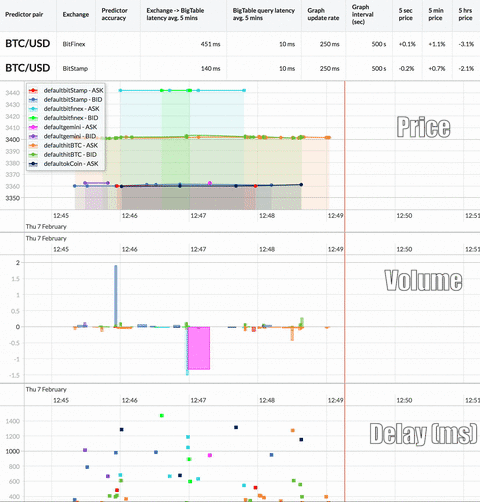 Requirements / Solutions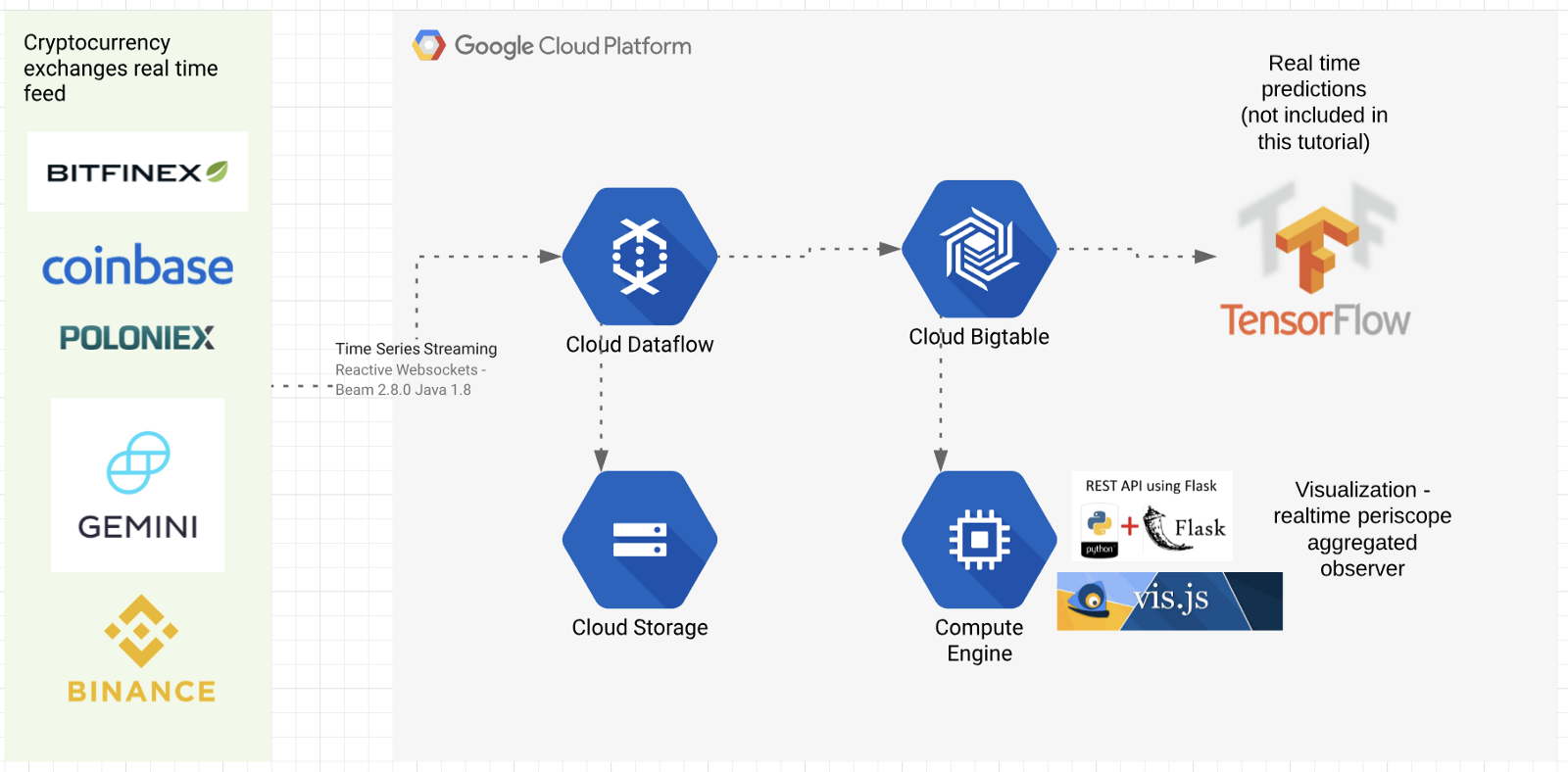 Architectural overview
The typical requirement for trading systems is low latency data ingestion, and for this lab is extended with near real-time data storage and querying at scale. You will learn the following from this lab:
Architecture/How it works
The source code is written in Java 8, Python 3.7, JavaScript; and Maven, PIP for dependency/build management.
The code can be divided into five main framework units: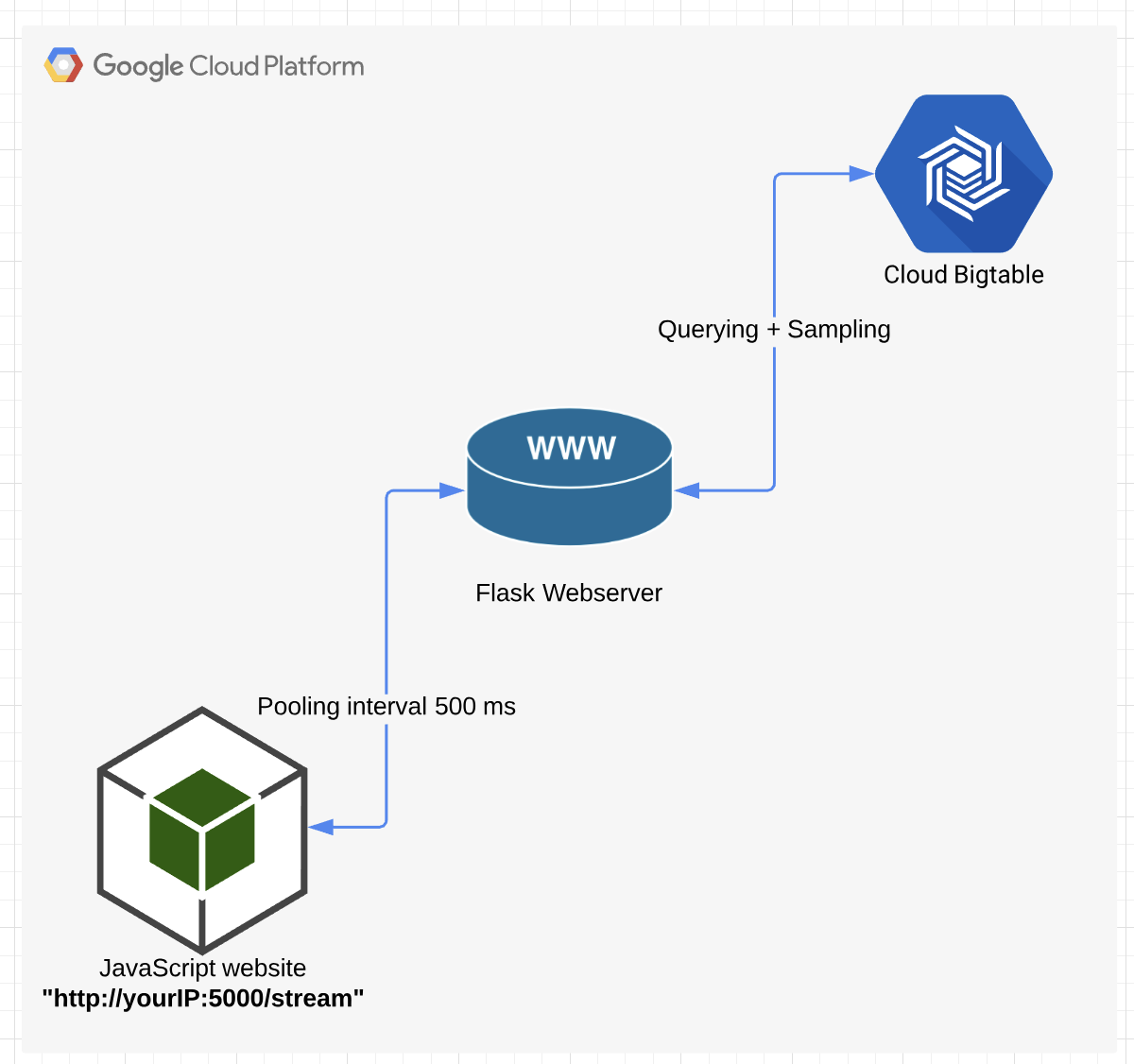 Flask web server will be run in the Google Cloud VM instance
Pipeline definition
For every exchange + trading pair, a different pipeline instance is created. The pipeline consists of 3 steps:
pre-writing mutation and key definition (ETH-USD Mut2)
Bigtable write step (ETH-USD2)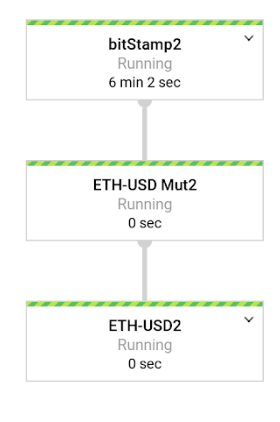 Bigtable row key design decisions
The DTO for this lab looks like this: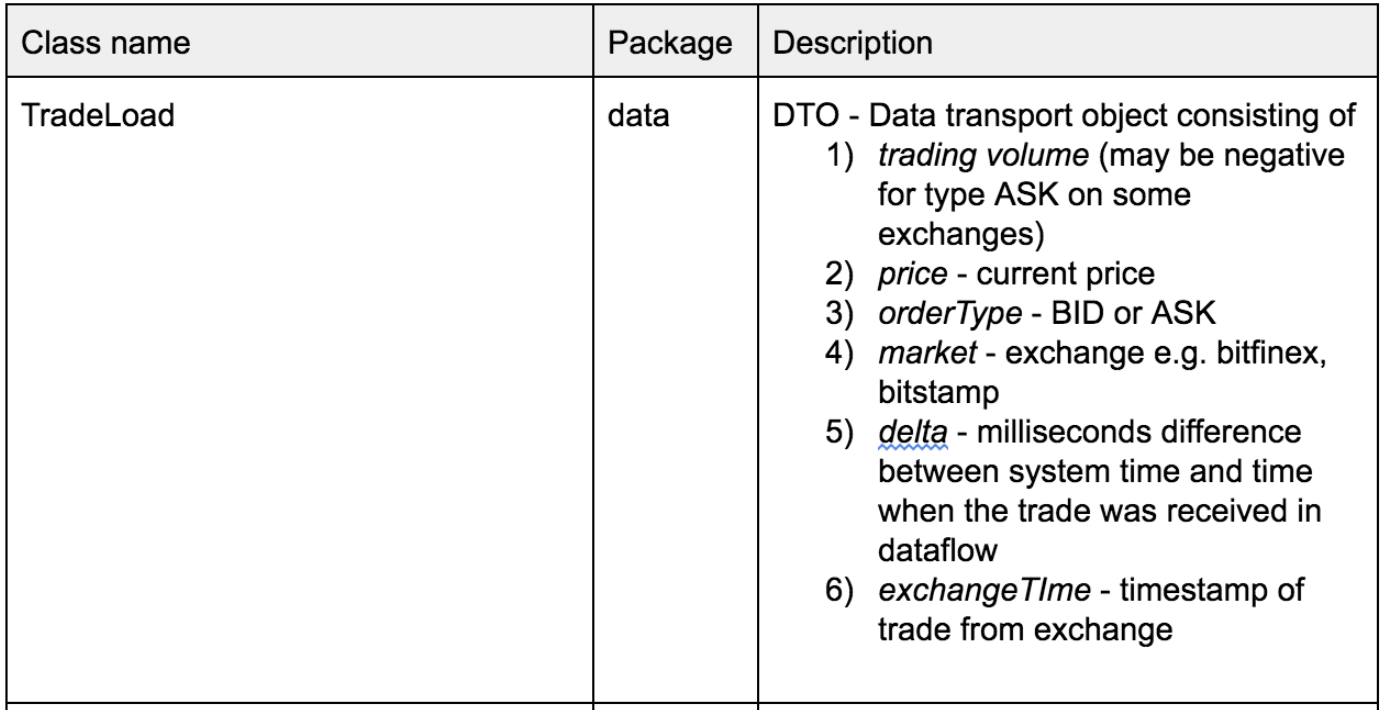 The row key structure is formulated in the following way:
TradingCurrency#Exchange#SystemTimestampEpoch#SystemNanosTime
E.g: a row key might look like BTC/USD#Bitfinex#1546547940918#63187358085
BTC/USD — Trading Pair
Bitfinex — Exchange
1546547940918 — Epoch timestamp ( more info)
63187358085 — System Nano time ( more info)
Why is nanotime added at the key end?
Nanotime is used to avoid multiple versions per row for different trades. Two DoFn mutations might execute in the same Epoch ms time if there is a streaming sequence of TradeLoad DTOs. NanoTime at the end will split Millisecond to an additional one million.
In your own environment, if this is not enough, you can hash the volume / price ratio and attach the hash at the end of the row key.
Row cells will contain an exact schema replica of the exchange TradeLoad DTO (see earlier in the table above). This choice will help you go from a specific (trading pair) — (exchange) to less specific (timestamp — nanotime) and avoid hotspots when you query the data.
Bergabunglah dengan Qwiklabs untuk membaca tentang lab ini selengkapnya... beserta informasi lainnya!
Dapatkan akses sementara ke Google Cloud Console.
Lebih dari 200 lab mulai dari tingkat pemula hingga lanjutan.
Berdurasi singkat, jadi Anda dapat belajar dengan santai.
Bergabung untuk Memulai Lab Ini