—/100
Checkpoints
arrow_forward
Create a Kubernetes Service
GSP005

Overview
The goal of this hands-on lab is for you to turn code that you have developed into a replicated application running on Kubernetes, which is running on Kubernetes Engine. For this lab the code will be a simple Hello World node.js app.
Here's a diagram of the various parts in play in this lab, to help you understand how the pieces fit together with one another. Use this as a reference as you progress through the lab; it should all make sense by the time you get to the end (but feel free to ignore this for now).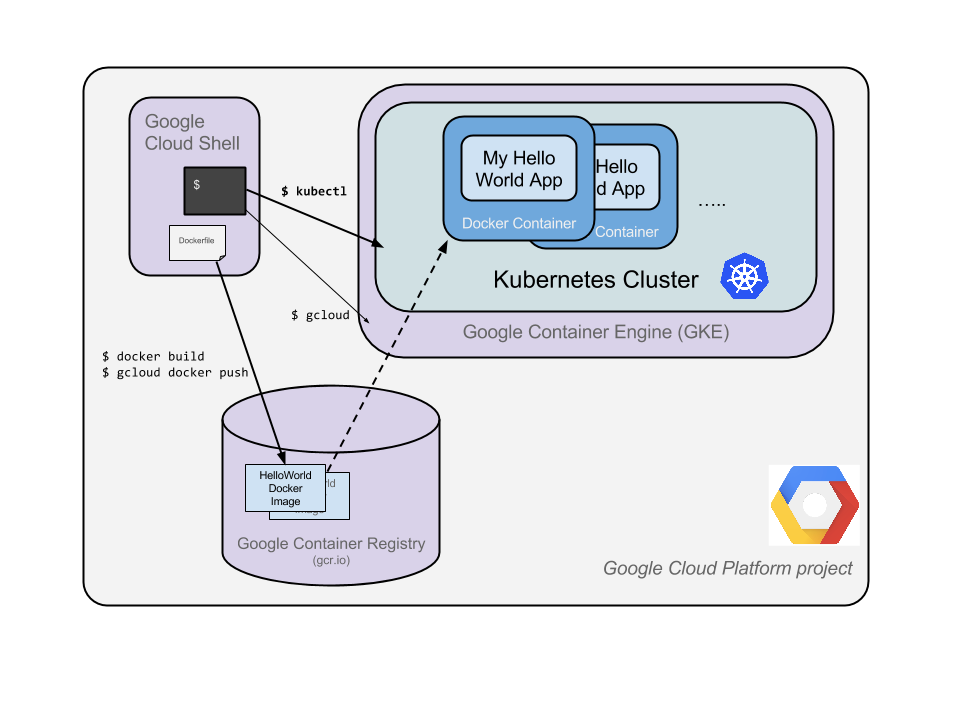 Kubernetes is an open source project (available on kubernetes.io) which can run on many different environments, from laptops to high-availability multi-node clusters; from public clouds to on-premise deployments; from virtual machines to bare metal.
For the purpose of this lab, using a managed environment such as Kubernetes Engine (a Google-hosted version of Kubernetes running on Compute Engine) will allow you to focus more on experiencing Kubernetes rather than setting up the underlying infrastructure.
What you'll do
Create a Node.js server.
Create a Docker container image.
Create a container cluster.
Create a Kubernetes pod.
Scale up your services.
Prerequisites
Familiarity with standard Linux text editors such as vim, emacs, or nano will be helpful.
We encourage students to type the commands themselves, to help encourage learning of the core concepts. Many labs will include a code block that contains the required commands. You can easily copy and paste the commands from the code block into the appropriate places during the lab.
Dołącz do Qwiklabs, aby zapoznać się z resztą tego modułu i innymi materiałami.
Uzyskaj tymczasowy dostęp do Google Cloud Console.
Ponad 200 modułów z poziomów od początkującego do zaawansowanego.
Podzielono na części, więc można uczyć się we własnym tempie.
Dołącz, aby rozpocząć ten moduł