Checkpoints
arrow_forward
Create Bigtable instance
Verificar meu progresso
/ 10
Create Kubernetes Engine cluster
Verificar meu progresso
/ 10
Create ConfigMap
Verificar meu progresso
/ 20
Create OpenTSDB tables in Bigtable
Verificar meu progresso
/ 20
Deploy OpenTSDB
Verificar meu progresso
/ 10
Create OpenTSDB services
Verificar meu progresso
/ 10
Create ClusterRoleBinding for heapster
Verificar meu progresso
/ 10
Examining time-series data with OpenTSDB
Verificar meu progresso
/ 10
Using OpenTSDB to Monitor Time-Series Data on Cloud Platform
1 hora 15 minutos
7 créditos
GSP142

Overview
In this lab you will learn how to collect, record, and monitor time-series data on Google Cloud using OpenTSDB running on Google Kubernetes Engine and Cloud Bigtable.
Time-series data is a highly valuable asset that you can use for several applications, including trending, monitoring, and machine learning. You can generate time-series data from server infrastructure, application code, and other sources. OpenTSDB can collect and retain large amounts of time-series data with a high degree of granularity.
In this hands-on lab you will create a scalable data collection layer using Kubernetes Engine and work with the collected data using Bigtable. The following diagram illustrates the high-level architecture of the solution: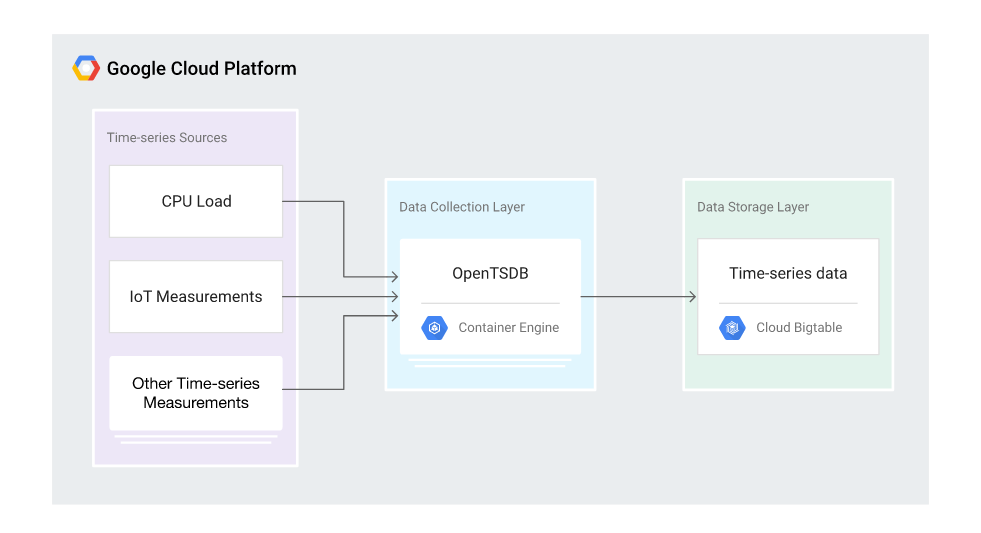 Objectives
Create a new Bigtable instance.

Create a new Kubernetes Engine cluster.

Deploy OpenTSDB to your Kubernetes Engine cluster.

Send time-series metrics to OpenTSDB.

Visualize metrics using OpenTSDB and Grafana.
Participe do Qwiklabs para ler o restante deste laboratório e muito mais!
Receber acesso temporário a Console do Google Cloud.
Mais de 200 laboratórios, do nível iniciante ao avançado.
Tamanho compacto para que você possa aprender no seu próprio ritmo.
Participe para iniciar este laboratório