—/100
Checkpoints
arrow_forward
Create a Dialogflow agent
Allow Fulfillment to Store Help Ticket Data
Tickets are Logged in Datastore
Implementing an AI Chatbot with Dialogflow
GSP078

Overview
Dialogflow is one of the hottest computer-human interaction platforms on the market. It offers all the services and complexities of natural language processing and machine learning, but uses a straightforward interface that allows you to start developing Assistant, Alexa, and Cortana integrated applications today. In this lab, you will build a Google Assistant chatbot that submits helpdesk tickets. The following is a diagram of the chatbot application on Google Cloud: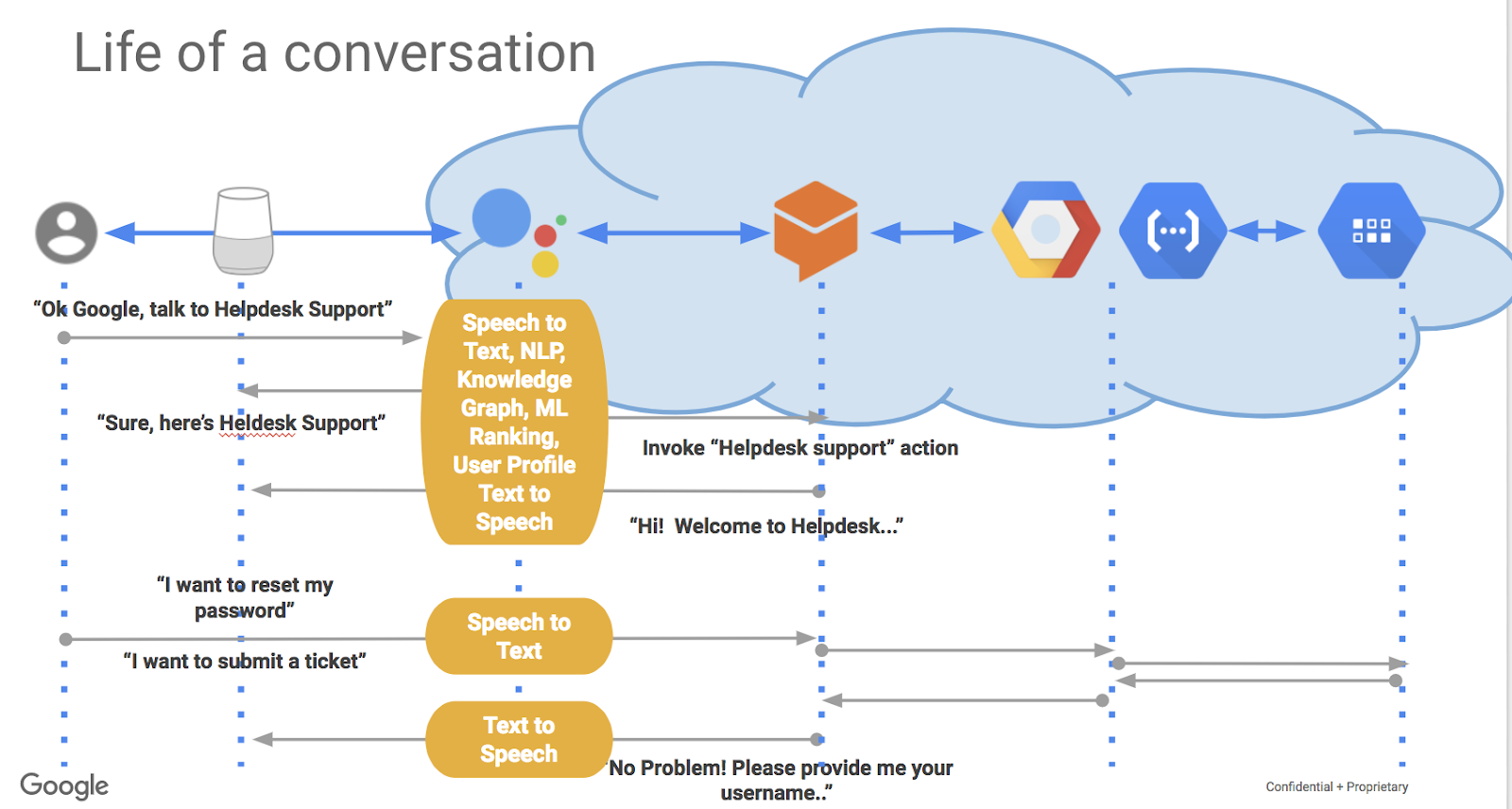 The exercises are ordered to reflect a common cloud developer process. You will:
Set up your lab and learn how to work with Dialogflow and your Google Cloud environment.
Deploy a simple Dialogflow application.
Deploy a simple cloud function within Google Cloud to connect with Dialogflow.
Test your chatbot.
What you'll learn
By the end of this lab, you will have an understanding of the following:
Basics concepts and constructs of Dialogflow, including intent, entity and context.
Chatbot workflow.
Life of a conversation.
Prerequisites
This is an expert level lab. Before taking it, you should be comfortable with at least the basics of machine learning and natural language processing. Here are some Qwiklabs that can get you up to speed:
Once you are prepared, scroll down to dive into Dataflow.
Bergabunglah dengan Qwiklabs untuk membaca tentang lab ini selengkapnya... beserta informasi lainnya!
Dapatkan akses sementara ke Google Cloud Console.
Lebih dari 200 lab mulai dari tingkat pemula hingga lanjutan.
Berdurasi singkat, jadi Anda dapat belajar dengan santai.
Bergabung untuk Memulai Lab Ini