Checkpoints
arrow_forward
Create a Dialogflow agent
Allow Fulfillment to Store Help Ticket Data
Tickets are Logged in Datastore
Implementing an AI Chatbot with Dialogflow
GSP078

Overview
Dialogflow is a natural language understanding platform that makes it easy to design and integrate a conversational user interface into your mobile app, web application, device, bot, etc. Dialogflow can analyze multiple types of input from your customers, including text or audio inputs (like from a phone or voice recording). It can also respond to your customers either through text or with synthetic speech.
In this lab, you will build a Google Assistant chatbot that submits helpdesk tickets. The following is a diagram of the chatbot application on Google Cloud: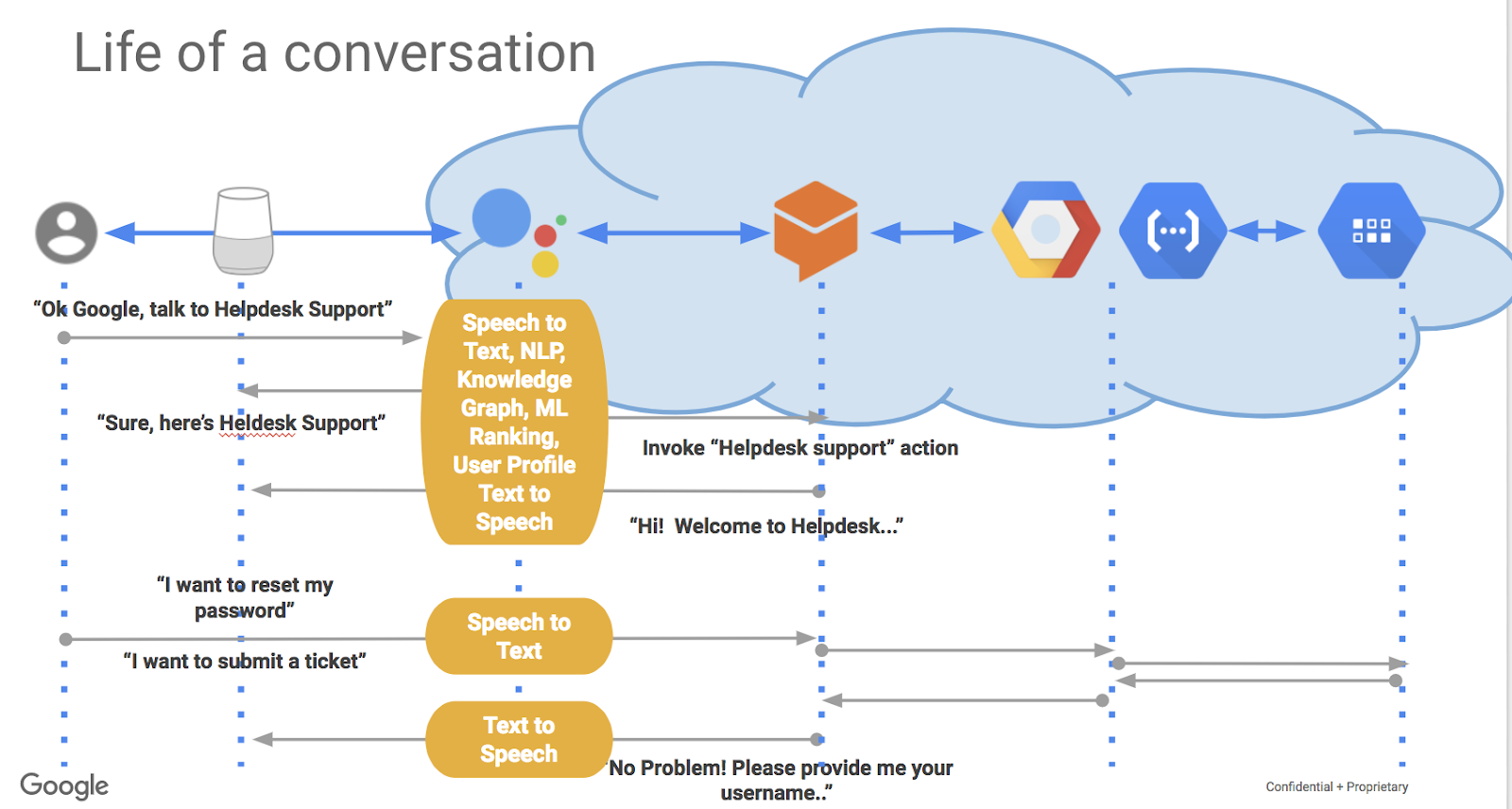 The exercises are ordered to reflect a common cloud developer process. You will:
Set up your lab and learn how to work with Dialogflow and your Google Cloud environment.
Deploy a simple Dialogflow application.
Deploy a simple cloud function within Google Cloud to connect with Dialogflow.
Test your chatbot.
What you'll learn
By the end of this lab, you will have an understanding of the following:
Basics concepts and constructs of Dialogflow, including intent, entity and context.
Chatbot workflow.
Life of a conversation.
Prerequisites
This is an fundamental level lab. Before taking it, you should be comfortable with at least the basics of machine learning and natural language processing. Here are some Qwiklabs that can get you up to speed:
Once you are prepared, scroll down to dive into Dataflow.
Join Qwiklabs to read the rest of this lab...and more!
Get temporary access to the Google Cloud Console.
Over 200 labs from beginner to advanced levels.
Bite-sized so you can learn at your own pace.
Join to Start This Lab