Observing Services using Prometheus, Grafana, Jaeger, and Kiali
GSP655

Overview
Introduction
In this lab, you will explore Istio's flexible model for collecting telemetry using adapters and Add-Ons. Istio telemetry Add-Ons, including Prometheus, Grafana, Jaeger, and Kiali, are designed to support building and operating services, even when running on-premises.
Traditionally, services directly integrate with these backend systems, creating a hard coupling and baking-in specific semantics and usage options.
Instead, Istio provides a uniform abstraction that makes it possible to interface with an open-ended set of infrastructure backends. This is done to provide rich and deep controls to the operator, while imposing no burden on service developers. Istio is designed to change the boundaries between layers in order to reduce systemic complexity, eliminate policy logic from service code and give control to operators.
Mixer is the Istio component responsible for providing telemetry collection. Mixer's flexibility in dealing with different infrastructure backends comes from its general-purpose plug-in model. Individual plug-ins are known as adapters and they allow Mixer to interface to different infrastructure backends that deliver core functionality, such as logging, monitoring, and more. The exact set of adapters used at runtime is determined through configuration and can easily be extended to target new or custom infrastructure backends.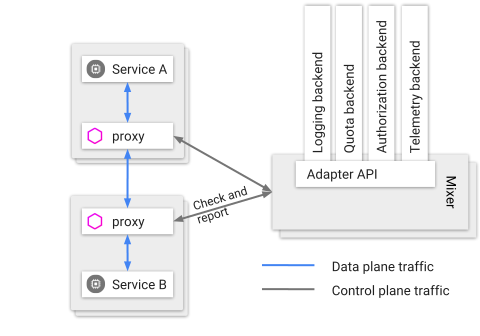 Objectives
In this lab, you will learn how to perform the following tasks:
Understand the installation of the Istio Telemetry Add-Ons.
Query Istio metrics with Prometheus.
Visualize Istio metrics with Grafana.
Generate and visualize traces with Jaeger.
Visualize your service Mesh with Kiali.
Join Qwiklabs to read the rest of this lab...and more!
Get temporary access to the Google Cloud Console.
Over 200 labs from beginner to advanced levels.
Bite-sized so you can learn at your own pace.
Join to Start This Lab