Explore Machine Learning Models with Explainable AI
7 Stunden Fundamental universal_currency_alt 23 Guthabenpunkte
In dieser grundlegenden Quest sammeln Sie praktische Erfahrungen mit Explainable AI, einer Reihe von Tools und Plattformen, mit denen Sie integrative und interpretierbare Modelle für maschinelles Lernen entwickeln und diese vertrauensvoll einsetzen können. Schließen Sie diese Quest ab, einschließlich des Challenge Lab am Ende, um ein exklusives digitales Google Cloud-Abzeichen zu erhalten.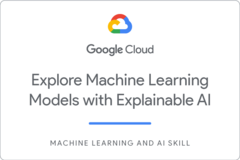 Wenn Sie alle Aktivitäten in diesem Kurs abschließen, erhalten Sie ein Abzeichen. Sammeln Sie in Qwiklabs Abzeichen durch das Abschließen von Aufgabenreihen, Spielen und Kursen. Sie können mit ihnen auf Ihre Kompetenzen aufmerksam machen.
Lab
In this lab, we demonstrate the use of the what-if-tool for image recognition models.
Lab
In this lab, you use the What-if Tool to identify potential biases in a model trained on mortgage loan applications.
Lab
In this lab we use the What-If tool to inform model modifications. Model versioning is maintained using AI Platform.
Lab
In this challenge lab you'll apply knowledge of AI Platform and the What-If Tool to identify and address bias in datasets.